Review: The Infernal Devices Series
October 07, 2017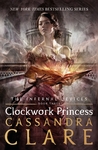 Clockwork Princess
by
Cassandra Clare
My rating:
4 of 5 stars
**This review contains spoilers**
"Marry me," he said. "Marry me, Tess. Marry me and be called Tessa Herondale. Or be Tessa Gray, or be whatever you wish to call yourself, but marry me and stay with me and never leave me, for I cannot bear another day of my life to go by that does not have you in it."
To be completely honest I didn't think the writing style was great and the story didn't really get me either, and there were too many clichés... but the characters, the characters are so good, too good. They're the sole reason I picked these books up again and finished all three in a weekend. So yeah, Cassandra Clare has regained a place in my heart.
This was actually a re-read, I first picked up
Clockwork Angel
when I was in school and back then I must admit I didn't really enjoy it. However I decided to give it a second chance because I already had the books and I never finished the third one the first time around (not to mention they have excellent reviews). And having finished them now, I can say I finally understand the hype surrounding them.
I loathe love triangles in YA books, they're all the same, this one is the only exception. Tessa and Will and Jem have this rare quality that makes the angst between the three of them bearable and actually sad, they all love each other and wish each other happiness, which inmediately erases jealousy and bitterness between them, leading them to sacrifice their personal happiness so the other two may be happy instead. It's a rare thing to find in books of the like, but it makes the otherwise plain story compelling.
On the things I didn't like, I could list the writing style, it didn't feel very special minus the occasional quotable parts, and the plot, which besides the romace seemed very common and full of clichés. Something I particularly disliked were the chapters narrated from Will's sister Cecily's point of view, I thought they were really unnecesary, as nothing really relevant to the main story happened in them, and in the end drove me to dislike her for this same reason.
On the ending, oh well, where to start? It kind of felt like a punch in the gut, not the actual ending but the epilogue, the thing about including an entire chapter in modern setting kind of killed the victorian magic for me. And also, I could have lived the rest of my life without the description of Will's death; he was my favourite character by far, and this death though happy, only served to make my heart ache. The epilogue also made him appear like in the end he was only a chapter on Tessa's life in my eyes, which really didn't sit well with me, I don't know if I'm beign unfair or if someone else feels that way... But at least that was how I see it.
Still with all the things I didn't enjoy about these books, I have to admit that as a love story, it shines. The entire time I was wishing they would all end up together, because it felt like the only solution where no one got hurt. But well, you can't always get what you want, right? Would I recommend it? Yes, but only if you have the time,
Clockwork Princess
feels pretty long and there's a lot of angst, it'll make you laugh, it'll make you cry, but you'll be happy at the end, sort of. So consider yourself warned.
INSTAGRAM
|
BLOG
|
PINTEREST
|
GOODREADS
View all my reviews